CiMED 2016 California Israel Business Summit has marked another successful CiCC event which included a delegation of 12 presenting startups in the field of MedTech including areas such as Medical Device, Digital Health, Health IT, and Data Analytics.
We would like to thank all of you who took part in CiMED 2016: sponsors, speakers, CiMED committee members, startups delegation, and participants who helped us to put together such a wonderful event.
In addition to the conference, CiMED 2016 included two days of round table meetings and intensive corporate visits. The delegation visited Johnson & Johnson Innovation Center, Kaiser Permanente Santa Clara Medical Center and Fogarty Institute of Innovation where they met with executives from each company to learn about their strategy and potential collaboration.
Please find the CiMED 2016 eBook here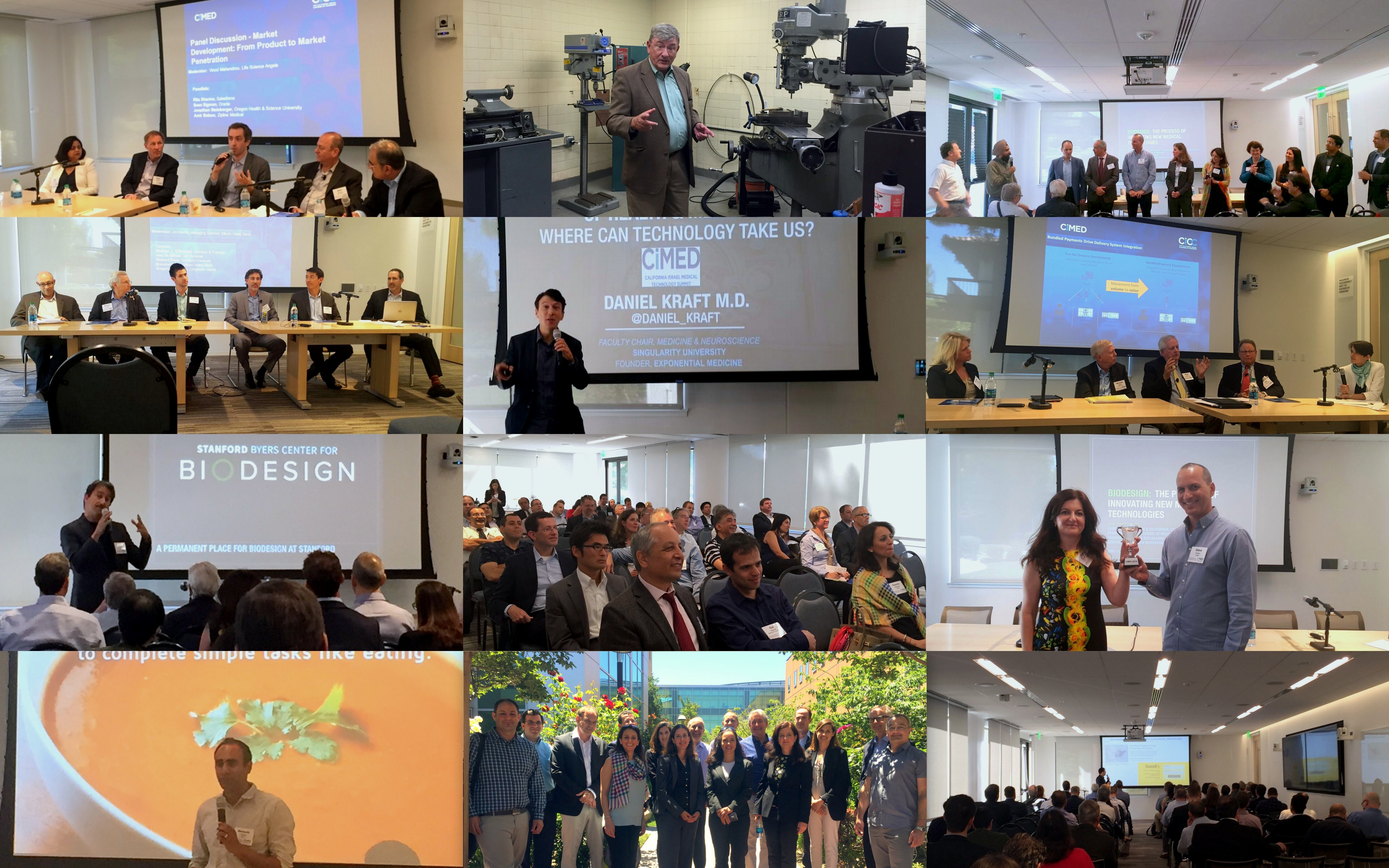 Presenting Startups testimonials…
"Congratulations and many thanks for a very well planned and run event at the CiMED. The speakers and panels were highly professional and provided valuable insight. The meetings with the investors were very useful and opened multiple new opportunities. Combining the CiMED event with the tours, and the UCSF and WSGR conferences was perfect! Thanks a lot for making it a great success! "
–Moshe Sarfaty, Founder and CEO, LS BioPath
"For a young start up that is taking its first steps in the US market it is very comforting to know that you have carrying "parents" in the form of CIMED mentors that guides, connects and helps in those fragile first steps of unknown terrain."
–Oded Cohen, Founder and CEO, Upright
"I can only join all the warm things everyone said….Thanks for everything, if was an amazing week for us, hope to see you all again soon…"
–Iftach Dolev, CO-Founder and CEO, NIBS NeuroScience Technologies
"Well, all the good words have already been said..So just wanted to say – thank you"
–Galit Zuckerman-Stark, Founder & CEO, Medasense Biometrics Ltd.
"The caliber of the speakers and investors was exceptional and provided great insight to help a startup propel forward. Also, a shout-out to all the individuals/companies who attended from Israel and US in making this a cross-learning experience. Best regards, Gazelle "
–Gazelle Rastegar, VP, Marketing and Business Development, Hyginex
"I would like to join the others and thank you very much for great event and meetings. I look forward to the next one."
–Rami Cohen, Founder and CEO, Telesofia Medical
"I wanted to greatly thank you for a great event, well organized, and very professional."
– Yuval Dimnik, Co-Founder and CEO, NooBaa
"I would like to join the warm words of all.The conference was great "
– Izhak Nakar, Founder & Executive Chairman, Momsense
"The week was well organized and the sessions were interesting as well as the interaction with the other companies. Thank you very much"
– Itai Katzir, Founder and CEO, Home Care and Share
"Many thanks,The conference was great and looking forward to staying in touch with all of you!"
– Omri Shor, Founder and CEO, Medisafe
"It was a great educational and networking event. Very much appreciated."
– Bahram Nour-Omid, Executive Chairman and CEO, Hyginex
" The quality of the attendees, the companies and investors, and the meetings you arranged were all exceptional. I was glad to have been able to participate and hope to have the opportunity to see you all again soon. "
– Dov Biran, Founder and CEO, Fitango
" Thank you very much for CiMED. I really enjoyed meeting everybody."
– Ilan Landesman, Founder and CEO, Biop Medical
We look forward to seeing you at CiConnect 2016 on November 2nd!